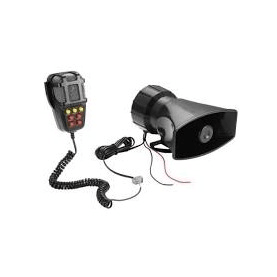 100w Electronic Siren 5 Tone With Remote & Mic NG-86
5 tone electronic siren with microphone.
This high powered 100W Electronic siren with Mic is a handy product that can be installed in any vehicle. Built from high quality materials for durability and long use. Use this siren/speaker for high-powered transmission of electronic siren and voice communications in vehicular applications. Sirens are used on emergency service vehicles such as ambulances, security vehicles, police cars, and fire trucks.
Specifications:
5 tone electronic siren with microphone
Presets include, Amulance, Traffic, Police and fire alarm
Voltage: 12V(DC)
Tone: 300dB