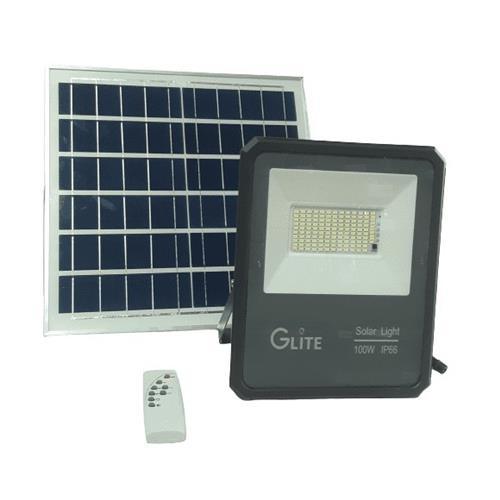 100w Solar Flood Light 6500k Glite
This light includes a solar panel that needs to be mounted in an area free of any shading in order to recieve optimum sunlight and charge efficiently. Placing it in an area without direct sunlight may lead to under performance of the product. The panel comes with a 5m cable allowing you to place the light in an area that normally isn't illuminated while still allowing the panel to be in direct sunlight.
Specifications:
Light
Maxmimum Power: 100w
Material: Die Cast Aluminium
Waterproof Rating: IP65
Colour Temperature: 6500k
Charging Time: 4-6 Hours
Run Time: 10-12 Hours (Light will start dimming as the battery loses charge in use)
Operating temperature: -15°C to 60°C
Dimensions: 233x48x290mm (LxWxD)
Remote Controlled
Features:
Remote controlled
Can be set on a timer via the remote: Auto off after 3,5 or 8 Hours
Can be set to automatic:  sun set down and the light will switch on, sun rises and the light will switch off and begin charging
Dimmable via remote contol: Brightness can be adjusted
Weather Resistant - Light should be mounted right way up so that water isn't able to enter through the cable gland when in direct rain.