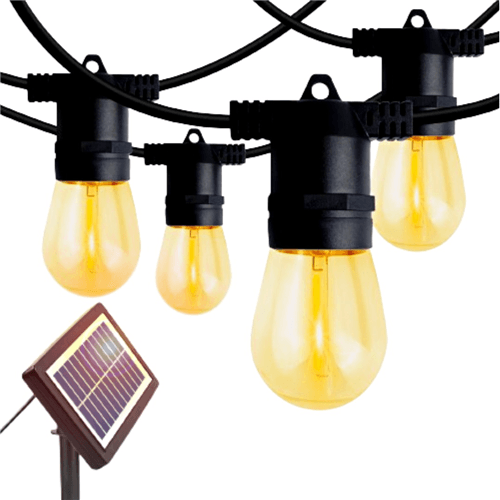 10m Solar Décor String Light with Bulbs & Solar Panel
Introducing our Bing Light Solar Decor String Light set, the ideal choice for transforming both your outdoor and indoor spaces into a captivating environment.
With its impressive features and stunning design, this 10-meter long string light will illuminate your evenings with a warm and enchanting glow.
This set provides efficient lighting for up to 8 hours on full charge. The string lights can be easily installed with the solar panel, garden spike & mounting screws included.

No sun? No problem. The solar panel which includes a battery can be charged normally using the micro-usb cable
Product specifications:
Length: 10m
IP44 Waterproof
Brand: Bing Light 
Colour: Warm White 2700k
Bubs: 10pcs x S14 Led Bulbs 
Approximately 8 hours on full charge
Whats's in the box:
x10 S14 Led bulbs
x1 Solar Panel with Battery 
x1 Set mounting screws / Garden spike
x1 10 meter string with holders

Quality Guarantee
Bing Light products are designed and manufactured according to the highest quality specifications. 
Our years of lighting experience allow us to bring you the best quality lighting products at the best prices. 
We are confident that you will love this product as much as we do.