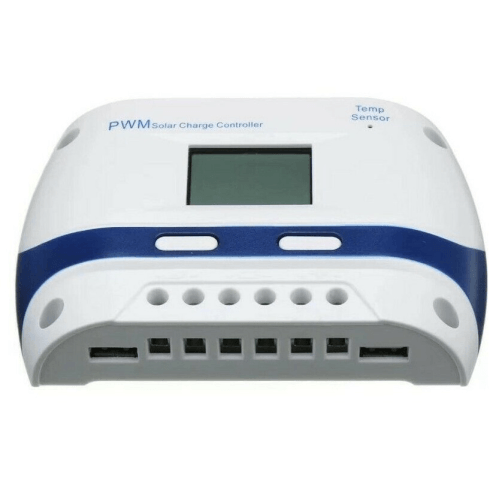 12/24v 10a Digital Solar Charge Controller Fivestar
12/24v 10a Digital Solar Charge Controller Fivestar 

The 12/24V 10A Digital Solar Charge Controller is specifically designed to manage the charging process of batteries in small to medium-sized solar power systems. It serves as an interface between the solar panels and the batteries, ensuring optimal charging performance and protecting the batteries from overcharging or discharging.
The charge controller features a digital display that provides real-time information about the charging status, battery voltage, charging current, and other important parameters. This allows users to monitor the system performance and make adjustments as needed.
With a maximum charging current of 10 amps, this charge controller is suitable for systems with moderate power requirements. It supports both 12V and 24V battery systems, providing flexibility for different applications.
Features:
Efficient Charging: The charge controller optimizes the charging efficiency, ensuring maximum utilization of solar energy for battery charging.
Battery Protection: It incorporates multiple protection mechanisms to prevent overcharging, over-discharging, short-circuiting, and reverse polarity issues, safeguarding the batteries.
Digital Display: The built-in digital display offers real-time monitoring of important system parameters for easy management and troubleshooting.
Automatic Voltage Detection: The charge controller automatically detects the battery voltage (12V or 24V) for convenient system setup.
Compact and Versatile Design: The compact size and versatile compatibility make it suitable for a range of solar power applications.
Specifications:
Model: 12/24V 10A Digital Solar Charge Controller
Maximum Charging Current: 10A
Battery System Voltage: 12V/24V (auto-detection)
Display: Digital display for real-time monitoring
Protection Features: Overcharge protection, over-discharge protection, short-circuit protection, reverse polarity protection, etc.
Connection: screw-type connectors
Certification: CE and RoHS compliant (subject to manufacturer's certification)