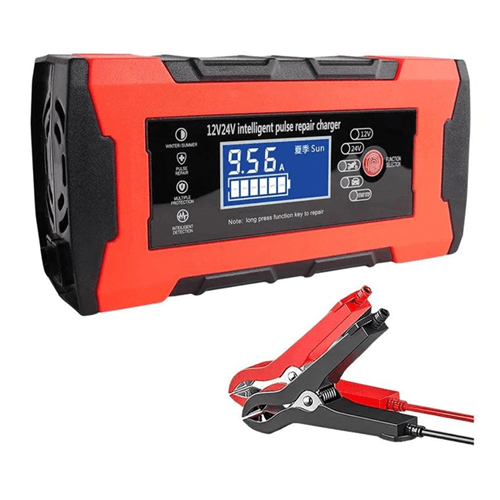 12-24v 120W Battery Repair Charger Q-DP672

-This charger is designed for 12V and 24V batteries, Wide voltage support of 220V input current, automatically adjusts the charging current, easy to deal with a variety of harsh voltage environments.
-Built-in circuit protection guards against reverse polarity, sparks, overcharging, over-current, open-circuits, short-circuit, and overheating.
-The smart charger can automatically detect outside temperature, then auto-switch between summer or winter mode and self-appropriate raise and reduce the charging voltage. Car/Truck mode (12V 10A / 24 5A) for fast charging big batteries, Motorcycle mode (max 1.5A) for small batteries, AGM mode for AGM, and calcium batteries, and repair mode for repairing old batteries.
Features;
-LCD screen display
-Voltage detection
-Pulse to repair
-Temperature detection
-Short-circuit protection
-Full-power auto stop
-Over-voltage protection
Specifications;
-Package weight; 700g
-Output line length; 65cm
-Output peak current; 10A
-Input voltage; 12V-15.5V/24V-31
-Output voltage; 12V-15V/24V-31V
-Package dimensions; l=25cm x h=12.5cm x w=7cm