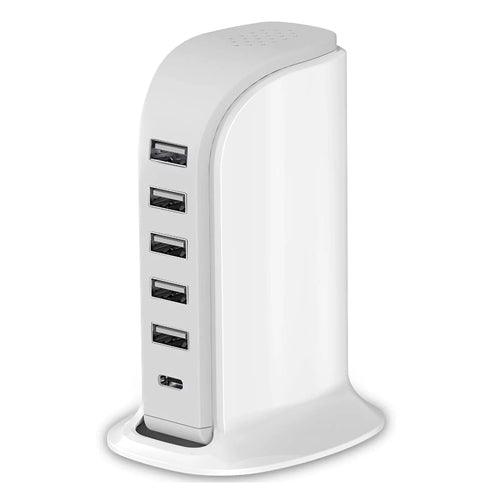 220V Multi-Port USB Super Charger White - AJ-10
220V Multi-Port Super Charger White - AJ-10
Product details:
20 Watt Charging Power.
5 USB Ports, up to 2 amps for a single port.
1 Type-C fast charging port.
Power extension cord offered.
Hot runner process shell, 1382℉ anti-combustion.
Details make it outstanding.
The cooling holes on the top support more efficient and longer-lasting use.
High-density power cord ensures safer power supply.
Shiny Housing + ABS fireproof material make it an integrated and stylish desktop charger station.
Desktop charger.
6 in 1 charging organizer, bring back you tidy desktop.
With multiple usb charging station.
Most important:
No more troubles or struggles on lose of your chargers, charging station for multiple devices.
usb hub charger for all kinds of electronics, home, office, hotel... Everywhere it helps!
also a good choice as gift!
This phone charger block accompanys you around the world! 100-240V Current worldwide compatible.
Get ready to travel around with this sailingboat 6 port charger!
ini power strip cruise essentials: power strip for all cruises standard:"No surge protection, small outlet extender with usb c, portable size, cruise&travel accessories.
5 in 1 charging station with outlets: 3-sided wide outlets 1875W + 2 usb fast charging ports (1 type c port) smart 3.1A; space saving wall charger station for room, bathroom, kitchen, home office, college and more.
Outlet plug splitter with multiple protection: USB outlet with overload protection, short-circuit protection, over current protection, over-voltage protection, overheating protection and grounded protection. Environmental protection and fire-resistance PC shell with flame retardant at 1382℉ makes it more durable and longer life time.
Tech gadget gifts for multiple electronics: Multi plug outlet + usb charger, upgrade your wall socket with a single plug, even for small corner. room accessories for men, women, boys, girls, teens.