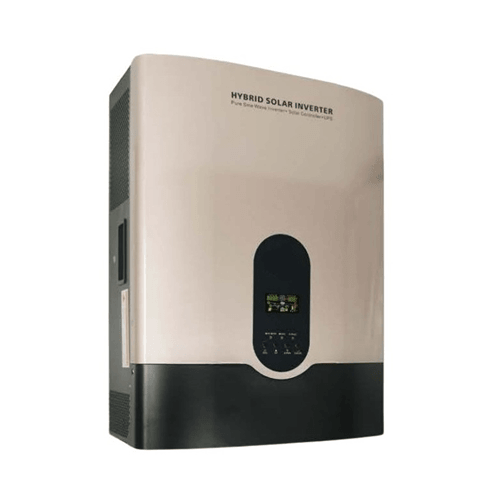 24v 3.5KVA 3000W MPPT Hybrid Inverter VO3524M Fivestar
These Hybrid Solar Inverters are ideal solutions to power all kinds of appliances in the home or office environment as a back up solution for when you lose power from the grid. Depending on the size of your inverter and battery system it can power many different types of appliances including Gate motors, LED lights, fans, refrigerators, air conditioners, MIcrowaves etc...
It's best to take the wattage of all the appliances you would like to run and add them all up to give you a total wattage to determine the best inverter option for you.
Features;
-Pure Sine Wave
-MPPT Solar charge controller
-LCD screen; Full-color design
-Selectable Charging Current
Specifications:
| | |
| --- | --- |
| Model | VO3524M |
| Rated Output Power | 3500VA |
| Battery Voltage(DC) | 24V |
| Nominal Voltage | 220VAC/230VAC |
| Voltage Range | 154-264VAC ±3v |
| Frequency | 50/60Hz ±3% |
| Rated Power | 3000W |
| Output Voltage(AC) | 220VAC ±3% |
| Surge Power | 9000W |
| Waveform | Pure Sine Wave |
| Battery Types | Lithium/Gel/Lead Acid |
| Battery Charging Voltage | 27VDC |
| Maximum PV Array Power | 1600W |
| PV Input Voltage Range | MPPT 30V-150VDC |
| Maximum PV Display Open Circuit Voltage | MPPT 150VDC |
| Max Solar Charge Current | 60A |
| Max AC Charge Current | 30A/15A |
| Transfer Time | ≤8ms |
| Load Peak Ratio | (MAX)3:1 |
| Operating Temperature | 0-40°C |
| Humidity | 0~90% Non Condensing |
| Acoustic Noise | <45dB |
| Dimensions | 470x310x135mm |
| Weight | 15.28kg |
| Packaging Dimensions | 543x392x215mm |
| Packaging Weight | 16.45kg |
| Weight Accuracy | ±5% |
Please Note
Inverters need installation by a Qualified Electrician ( And authorized CoC to ensure correct installation and warranty cover )