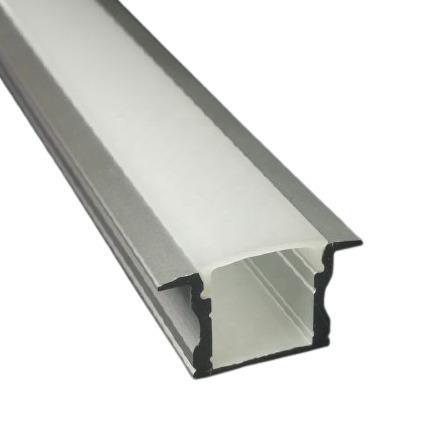 2M Low Spotting Deep Recessed Aluminium Channel for LED Strip Lights
Create a professional and visually appealing lighting installation with our 2M Low Spotting Deep Recessed Aluminium Channel. Enjoy the benefits of reduced spotting, improved light diffusion, and enhanced protection for your LED strip lights.
Simply stick the LED strip light's adhesive backing inside the channel, snap on the diffuser cover, and mount the channel where required.
Specifications:
Dimensions: Recess Width-17mm / H-14.91mm / L-2000mm
Material: Aluminium & Opaque or Clear Diffuser
Length: The aluminium channel comes in a 2-meter length, providing ample coverage for your LED strip lighting project.
Design: The channel features a deep recessed design, allowing for a greater depth to accommodate LED strips and provide better light diffusion.
Material: Constructed from high-quality aluminium, the channel offers durability, heat dissipation, and protection for your LED strips.
Compatibility: The channel is compatible with a variety of LED strip sizes and types, making it versatile for different lighting applications.
Mounting Options: It can be easily mounted with screws or adhesive, providing flexibility in installation methods.
Accessories: The channel often includes end caps, mounting clips, and other necessary accessories to simplify the installation process.
Features : 
Low Spotting Design: The deep recessed design of the aluminium channel helps minimize the appearance of individual LED spots, resulting in a more uniform and diffused lighting effect. This creates a seamless and visually pleasing illumination.
Enhanced Light Diffusion: The deeper profile of the channel allows for better light diffusion, spreading the light more evenly and reducing hotspots or shadows.
Sleek and Concealed Appearance: The channel helps conceal and protect the LED strips while providing a clean and streamlined look. It gives a finished and professional appearance to your lighting installation.
Effective Heat Dissipation: The aluminium construction of the channel promotes efficient heat dissipation, helping to extend the lifespan of the LED strips and maintain their optimal performance.
Customizable Length: The 2-meter length can be easily cut to the desired size, allowing for customization to fit your specific lighting project requirements.