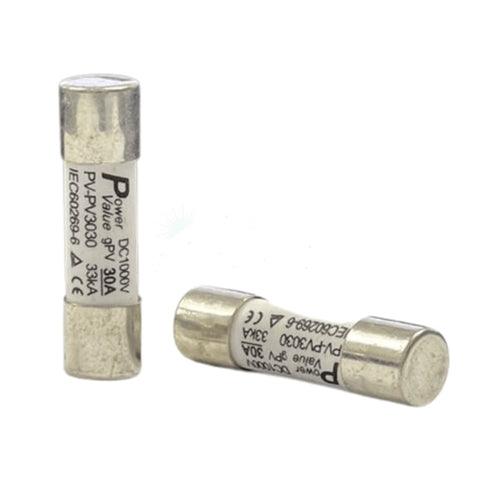 32A DC1000V PC Ceramic Fuse 4 Pack - Q-BX700
32A DC1000V PC Ceramic Fuse 4 Pack - Q-BX700
Size : 10 x 38 mm
Voltage : DC1000v
What material are these made from?
All series of cylindrical fuse links have ceramic bodies and silverplated copper end caps.

Why choose ceramic cartridge fuse?
Ceramic and glass cartridge fuses have similar properties. The capacity of a ceramic cartridge fuse is higher than other fuses, which means that ceramic fuses can be used in circuits that have a higher current rating. They are perfect for protecting against overheating.
What are cartridge fuses used for?
• For the protection of components and equipment from costly damage used by over-current.
• To isolate sub-systems from the main system once a fault has appeared.
Features & Benefits
• Standard dimensions of 10 (Diameter) x 38mm (Length) for space efficiency in small enclosures
• Easy tool-free installation to save time and effort.
What do I do if my fuse keeps blowing?
If your fuse keeps blowing, it could be a sign your circuit is overloaded. Don't replace the fuse until you work out the cause of the overload or relocate the appliance.