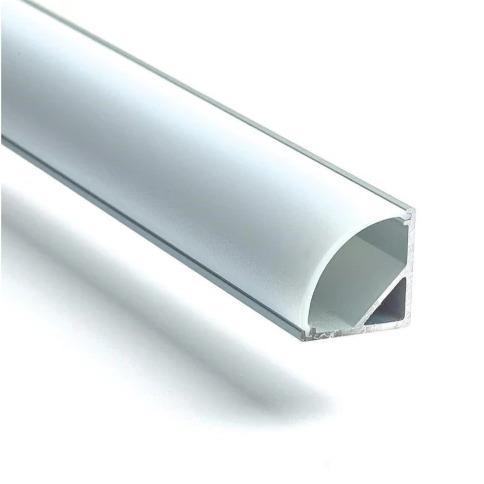 3M Corner Aluminium Channel for LED Strip Lights Bing Light 601
Introducing the 3M Corner Aluminium Channel for LED Strip Lights – the ultimate solution for achieving a sleek and professional installation of your LED strip lighting in corners and angles. The 3M Corner Aluminium Channel is a high-quality extrusion made from durable aluminum, known for its excellent heat dissipation properties and lightweight construction. This channel is specifically crafted to house and protect your LED strip lights, providing a seamless and visually appealing finish to your lighting installation. With a length of 3 meters (approximately 9.84 feet), it offers ample material for customization to suit your specific corner or angle requirements.
Specifications:
Material: Aluminum
Length: 3 meters (9.84 feet)
Finish: Anodized aluminum for a sleek and corrosion-resistant surface
Cover: Opaque polycarbonate cover for light diffusion and protection
Mounting:  mounting clips sold seperately 
Application: Ideal for architectural lighting, accent lighting, cove lighting, under cabinet lighting, and display lighting
Features:
Precise Corner Fit: Designed to seamlessly fit into corners and angles, the U-shaped profile of this channel ensures a perfect and snug fit, enhancing the overall aesthetics of your lighting setup.

Enhanced Lighting Effects: The frosted/transparent polycarbonate cover included with the channel helps to diffuse the light emitted by the LED strip, creating a uniform and visually pleasing illumination. Enjoy a soft and even glow without any hotspots or glare.

Durability and Heat Dissipation: Crafted from premium-grade aluminum, this channel not only protects your LED strip lights but also aids in dissipating heat, which can significantly extend the lifespan of your LEDs.

Easy Installation: The 3M Corner Aluminium Channel comes with mounting clips or adhesive tape, making installation a breeze. Attach the channel securely to the surface, insert your LED strip, and snap or slide the cover into place for a hassle-free setup.
Please note : Should delivery via courier be required, the channels will be cut down to either x3-1m lengths or x1-2m & x1-1m lengths to make up the full 3 meter channel.
What's Included:
1x 3m Aluminium Corner Channel