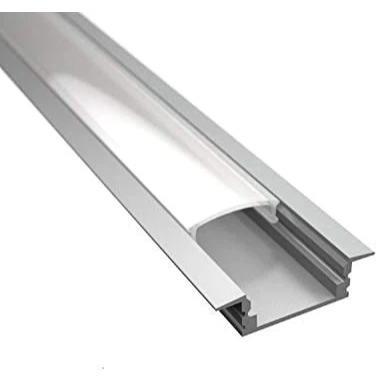 3M Recessed Aluminium Channel for LED Strip Lights Bing Light 618
3M Recessed Aluminium Channel for LED Strip Lights Bing Light 618
Introducing our innovative Recessed Channel LED Lighting System - the perfect blend of style, functionality, and efficiency. Designed to fit seamlessly into grooves or channels, the recessed channel allows the lighting fixture to sit flush with the surface, creating a clean and streamlined look while also protecting the LED strip and diffusing the light output. Whether you're looking to enhance your home's interior, create captivating displays for your business, or add a touch of sophistication to your commercial environment, our Recessed Channel LED Lighting System is the perfect choice. Experience the magic of refined lighting with this state-of-the-art product today.
Recessed channels serve multiple purposes, including:
Providing a protective housing: The channel acts as a protective casing for the LED strip, shielding it from dust, debris, and physical damage.

Heat dissipation: Recessed channels often have designs that help dissipate heat generated by the LED strip, ensuring optimal performance and extending the lifespan of the lighting system.

Diffusing light: The channel comes with a diffuser cover that helps distribute and soften the light output, reducing glare and creating a more even illumination.

Concealing wiring: Recessed channels can hide the wiring and electrical connections, resulting in a neater and more aesthetically pleasing installation.
The use of recessed channels is common in architectural lighting applications, interior design, and various commercial and residential lighting projects. They offer a discreet and stylish way to incorporate LED lighting into different spaces, making them a popular choice for modern lighting solutions.
Installation:
Simply stick the LED strip light's adhesive backing inside the channel, snap on the diffuser cover, and mount the channel where ever desired.
Please note these channels are sold in 3m lengths, the mounting brackets & end caps are sold separately 
Please note when ordering these channels for delivery they will be cut down into 1m lengths to accomodate courier restrictions.
What's Included:
1x 3m Recessed Mounted Channel