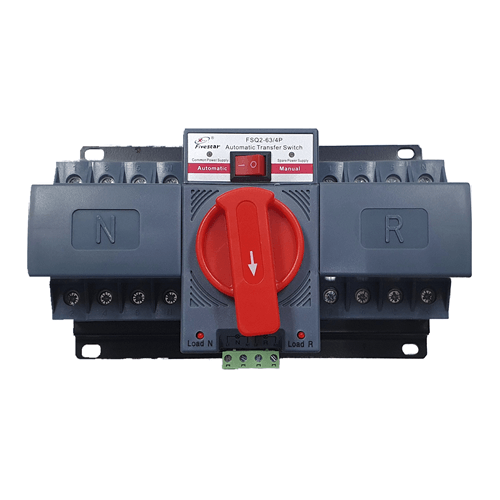 4 Pole 63A Automatic Changeover Switch FSQ2-63/4P
This 4 Pole automatic changeover switch is a vital component in most electrical and solar systems, ensuring seamless power transfer between two sources in a Single or 3-Phase system. It offers improved isolation and insulation between the live conductors, reducing the risk of electrical faults and short circuits. With the ability to automatically switch between the main power supply and a backup source, such as an inverter, it safeguards against any loss of power, protecting against data loss and system failures. With its automatic operation and reliable performance, the automatic changeover switch offers convenience, peace of mind, and efficient load management, making it an indispensable solution for reliable power supply in residential, commercial, and industrial settings.
Specifications:
Rated voltage: 220V 50/60HZ
4 Pole(3 Live, 1 Neutral)
63A
Switch time: <3S
Max current: 63A.