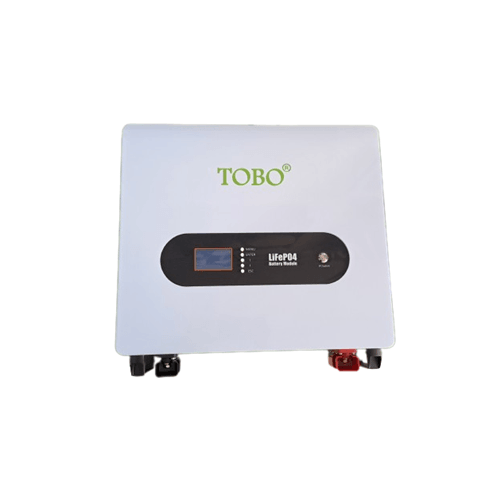 48v 4.8kWh Lithium Battery LiFeP04 TOBO
Please note that this product does not qualify for standard shipping rates and is only available for in store collection. Should you still require the product to be shipped to you, you can request product dimensions and weight and book a collection via your preferred courier. Alternatively you contact us directly for a quote on shipping and make payment based on the amount provided
Tobo 48v 4.8kWh Lithium Battery LifeP04
Wall Mount is a household renewable energy storage solution developed and produced by Lithium Batteries SA. Whe fully installed, it is a low-voltage DC battery system with an operating voltage of 51.2V, and works with a low voltage inverter to realize the goal of energy storage for home application. The battery pack supports parallel connection to expand capacity, which can meet various capacity requirements. It has a built-in battery management system (BMS), which can manage and monitor the pack and cell information – including voltage, current and temperature. What's more, the BMS can balance cell charging and discharging to extend cycle life. aluminum case prismatic cell.
Model: 48V100AH-2
Nominal Voltage: 48V
Rated Capacity: 100AH
Total Energy: 4.8KWh
BMS Charge Current: 50A 0.5C (max)
BMS Discharge Current: 100A 1C (max)
Charge Cut-off Voltage: 54V
Discharge Cut-off Voltage : 43.5V
Case Material: Metal
UN3
Communication Protocol: CAN/RS485/+LCD
What's In The Box:
-Battery Cables
-Communication cable
-Manual
-Wall Mount Bracket
-Wall Mount Bolts
Warranties:
All inverters and batteries must be installed by a qualified electrical wireman or Master electrician with a valid registration with the Department of Labour. A valid electrical certificate of compliance (COC) must be issued once installed, specific to the installation of the backup or solar system. The installation must be compliant with SANS 10142 and ALL its parts. Any warranty claim submitted without installation photos, a valid COC and proof of a qualified wireman/master electrician installing the unit, can be rejected and will render the warranty claim null at void.