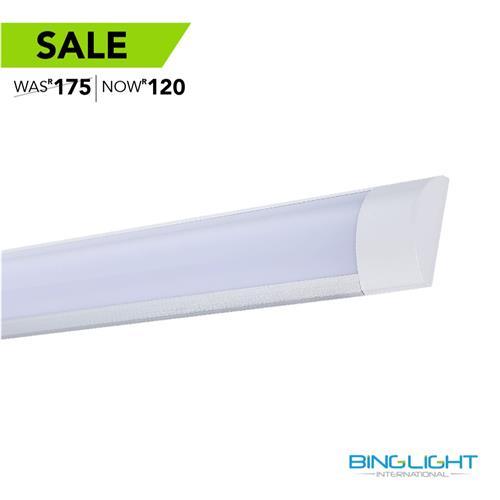 4ft 48w Led Batten Light Frosted 6000k Bing Light - Clearance Sale
This Modern And Minimalistic low-profile LED batten light is perfectly designed for use in Offices, Showrooms, Meeting Rooms, Restaurants, Hotels, Shops, Classrooms, Corridors, Communal Spaces, Kitchens, and more...
LED batten lights are lighting fixtures that offer uniform, spot free illumination across different rooms. They are highly valued for their energy efficiency. LED batten lighting fixtures can help users save as much as 40% on energy bills in comparison to T5 fluorescent tubes. These lights are especially lightweight and easy to install, All you need is a couple of screws or even some double sided tape and silicon. 
Specifications:
- Item Weight: 621 g
- Product Dimensions: 120 x 7.5 x 2.3 cm
- Fitting Colour: White
- Body Material: Casted aluminium profile
- Finish: White Opaque Cover
- Number of Lights: 1
- Wattage: 48 watts
- Input Voltage: 230 volts
- Colour Temperature: 6000 Kelvin
- Bulb Length: 120 centimetres
- Uses: Indoor use only - IP20
What's in the box:
1x 4ft 48w Led Batten Light 6000k
1x Pair mounting brackets