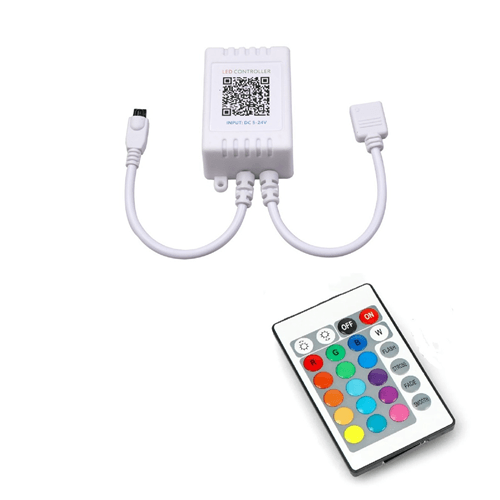 5-12v RGB LED Bluetooth Controller With IR Remote
This LED controller allows you to wirelessly control RGB strip lights using your mobile phone or a remote control. It provides a convenient and flexible way to adjust the colour, brightness, and lighting effects of your LED lights without the reliance  for physical buttons or wired connections.
The recommended app (led lamp) can be downloaded via your preferred app store and support Bluetooth communication between the strip and your device.The app controller offers a user-friendly interface where you can access a wide range of features. You can choose from a range of colour combinations to create custom lighting schemes, as well as adjust brightness levels, select pre-set lighting effects such as strobing or fading, and even synchronize the lights with music or create dynamic patterns.
Whether you want to create a relaxing ambiance, set the mood for a party, or enhance your gaming experience, this Bluetooth LED controller provides an ideal and comfortable solution for managing your LED lighting with ease.
Features:
App control via Bluetooth
Music Control
Adjustable patterns and colour combos
IR Controller
Timer Function
Specs:
Input Voltage: 5-12VDC
Remote control range: 1.5-2M
Bluetooth: 4.0
Remote Control: 24 Key 
App Control: LED Lamp - Download from Play/App Store
What's in the box:
1x RGB Bluetooth Controller
1x IR Remote Control