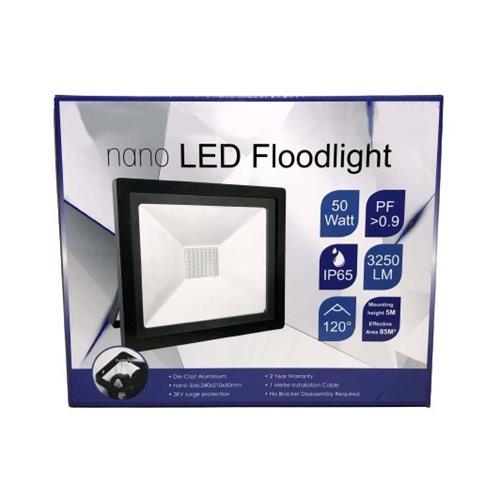 50w Nano Led Flood Light 6000k Pioled
50w 6000k Nano Flood Light Pioled
Illuminate your surroundings with the powerful and compact 50W Nano LED Flood Light from Pioled. With its sleek design and high brightness, this flood light is perfect for both indoor and outdoor lighting applications. The cool white 6000K color temperature provides crisp and vibrant lighting, enhancing the visibility and aesthetics of any space.
Features:
Compact and Sleek Design: The Nano LED Flood Light features a compact design that makes it easy to install and blend seamlessly into any environment. It offers a sleek and modern look while providing powerful illumination.

High Brightness: With a wattage of 50W, this flood light delivers a high level of brightness, ensuring efficient and effective lighting for your desired area. It offers ample illumination for various applications.

Energy-Efficient: Built with energy-saving LED technology, this flood light consumes less power compared to traditional lighting options. It helps reduce electricity costs while providing optimal lighting performance.

Wide Beam Angle: The flood light is designed with a wide beam angle, ensuring a broad coverage area and uniform distribution of light. It illuminates a large space effectively, making it suitable for various outdoor or indoor lighting requirements.

Durable and Weatherproof: Constructed with sturdy materials, this flood light is built to withstand different weather conditions. It is resistant to dust, water, and impact, ensuring long-lasting durability and reliability.
Specifications:
Wattage: 50W
Color Temperature: 6000K (cool white)
Beam Angle: Wide beam angle for extensive coverage
Voltage: 100-240V AC
IP Rating: IP65 o(weatherproof and dustproof)
Lifespan: Long lifespan of approximately 20,000 to 50,000 hours
Certification: CE and RoHS compliant