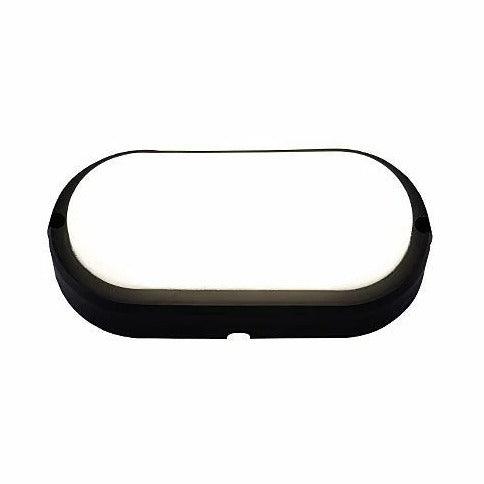 8W LED Wall Lamp Oval 4000k IP65 Black BH124
Elevate your surroundings with the 220V 8W LED Oval PVC Bulkhead Wall Lamp. Experience efficiency, style, and durability in one package. This lamp's energy-saving LED technology, wide 120-degree beam coverage, and weather-resistant build provides a versatile lighting solution for various settings.
Equipped with an energy-efficient 8W LED bulb, it guarantees an extended lifespan and reduced energy consumption, promoting eco-friendly lighting. Emitting 560 lumens of brightness, it ensures ample light coverage while conserving energy costs. Enjoy a balanced lighting ambiance with its 4000K color temperature, producing a neutral white light that creates a soothing and natural illumination. Ideal for spaces where visibility and clarity are crucial, such as hallways, staircases, outdoor walkways, and more.
Built to endure, the IP65 rating ensures dust-tight and water-resistant performance. Indoors or outdoors, this lamp is primed to handle various weather conditions, ensuring consistent reliability.
Powered by a standard 220VAC 50Hz input, installation is effortless. Whether enhancing interiors, illuminating pathways, or adding an industrial touch to commercial spaces, this lamp seamlessly integrates into your lighting plan. Upgrade now for exceptional lighting that harmonizes efficiency and style.
Specifications:
AC Input: 220V 50Hz
8W LED ( Included )
Body: Black PVC
Lens / Cover: Opaque PVC
IP Rating: IP65
Colour Temperature: 4000K
Brightness: 560 Lumens
Beam Angle: 120 degrees
Dimensions: 86mm(L) x 57mm(W) x 178mm(H) Input: 220VAC 50hz
Screws Included