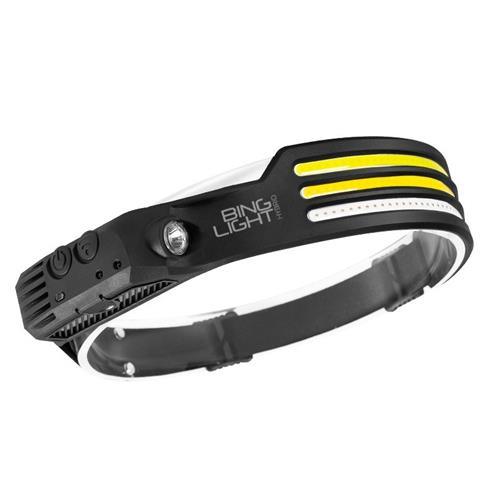 Bing Light Hybrid Premium LED Headlamp
The Bing Light Hybrid LED Head lamp is a multi-purpose headlamp perfect for outdoor activities and low-light working environments. The adjustable headband gives a relaxed and comfortable fit. The Bing Light Hybrid LED Head Lamp is small, lightweight and perfect to take anywhere with you. It features one XPE LED and three COB lights for cool, warm or red led light.  The head lamp can be activated using the push button or touch free wave sensor switch. 
Applications:
Use the Bing Light Hybrid LED Head Lamp as a work light or for any outdoor activity such as Jogging, Running, Camping, Reading, Cycling or Fishing. It is the perfect light for electricians, mechanics, plumbers or carpenters - use it in any workshop or even during braaing or loadshedding. 
Product Specifications:
COB & XPE
Charging: USB-C
Non-Contact On/Off Induction Switch
IPX4 (Resistance to water splashes from any direction)
Impact Resistance 
8 Hours Running Time
Area of Illumination: 230°
Product weight: 97g
LED lamp beads: 3W led 200lm
Battery type: Lithium
Battery capacity: 1200mAH
Working voltage: 3.0V-4.5V
Body material: silicone
Charging time: 3 hours
(First gear) COB highlight: 350 lumens, lighting time 2.5~3H
(Second gear) COB low light: 130 lumens, lighting time 3.5~4H
(Third gear) XPE highlight: 120 lumens, lighting time 4~4.5H
(Four gears) XPE low light: 50 lumens, lighting time 6*6.5H
What's in the box:
1x Headlamp 
1x Charging USB-C Cable