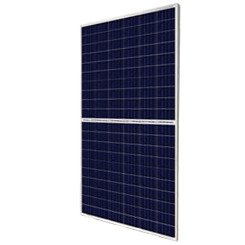 305W Polycrystalline Half Cell Canadian Solar Panel
Please note that this product does not qualify for standard shipping rates and is only available for in store collection. Should you still require the product to be shipped to you, you can request product dimensions and weight and book a collection via your preferred courier. Alternatively you contact us directly for a quote on shipping and make payment based on the amount provided
With Canadian Solar's industry leading poly-PERC cell technology and the innovative LIC (Low Internal Current) module technology,  Our 305w Polycrystalline Canadian solar panel will be the key element to your solar system. It has a high performance cell structure & is easy to mount.
Features:
Higher power classes for equivalent module sizes
High module efficiency up to 18.11 %
LOW hot spot temperature risk
LOW temperature coefficient (Pmax): -0.39 % / °C
LOW NMOT (Nominal Module Operating Temperature): 43 ± 2 °C
Specifications:
Wattage: 305W
Voltage (Vmp): 32.9V
Current (Imp): 9.28A
Open Circuit Voltage (Voc): 39.5V
Short circuit current (Isc): 9.73A
Maximum system voltage: 1000V
120 x dual-cell Percium Poly, 156 x 78 mm
Dimensions: 1675 × 992 × 40 mm
Weight: 18.5 kg
Please note: This module may be supplied with MC4-EVO2 connectors which are compatible with MC4 connectors.