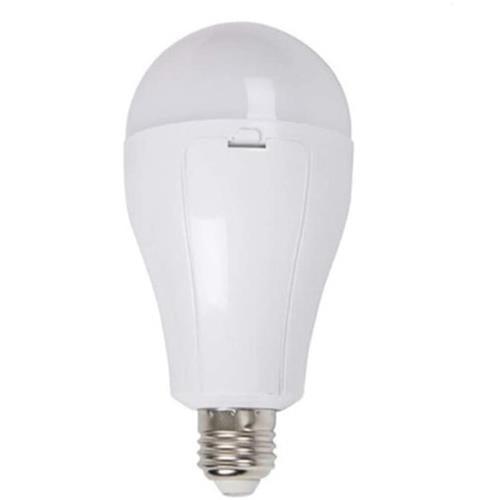 E27 15w Rechargeable Bulb 6500K Hello Today
This is the Ultimate solution to keep the lights on during power outages. In addition to lighting up your space, it also has a rechargeable battery which stores power in the event of an emergency so that you can continue work when the lights go out. These globes are available in Screw type ( E27 ), they are also simple to recharge. When power is restored simply leave them on for 5 hours and they good to go for the next crisis!
Important led light usage instructions:
This light bulb can be turned on & off, on your existing wall switches even during power outages. No need to take it off the light fitting.
When power outages occur the light output of the bulb remains at a 100% brightness, and because of it relying only on its battery power it lasts between 1-2 hours.
This light bulb can also be used as a portable light source, ie: without a fitting by holding the positive & negative line together.
The Light switch needs to be in the on position in order for the bulb to charge when there is electricity, the light will indeed be on during this time. Charge time is approximately 5 hours.
Specifications:
Power: 15W
Luminous flux: 1200 lm
Color temperature: 6500K
Supply voltage: 220 - 240 V AC / 50-60 Hz
Degree of protection: IP20
Operating temperature: - 10 ° C - + 40 ° C
Emergency illumination time: Between 1-2 hours
Charging time: 5 hours
Non dimmable
2x 18650 rechargeable batteries included
Package Includes:
1 x 15w Led Rechargeable Bulb