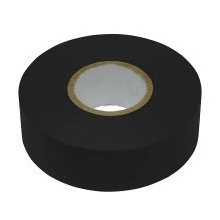 Insulation Tape 20m Black Nitto
Insulation Tape  Black 20m Nitto
The Black Nitto Insulation Tape is a high-quality tape designed for electrical insulation and wiring applications. With a generous length of 20 meters, this tape offers ample coverage and is ideal for securing and insulating electrical connections. The sleek black color provides a professional and discreet finish, making it suitable for a wide range of applications in both residential and commercial settings.
Specifications:
Color: Black
Length: 20 meters
Material: Constructed from durable and reliable insulation material
Usage: Suitable for electrical insulation and wiring applications
Adhesive: Features a strong adhesive backing for secure attachment
Compatibility: Compatible with various electrical wires and connections
Features:
Electrical Insulation: The Black Nitto Insulation Tape provides excellent electrical insulation properties, offering a protective barrier for wires and connections. It helps prevent electrical leakage and ensures safe and reliable performance.

Durable and Reliable: Made from high-quality insulation material, this tape is designed to withstand different environmental conditions and provide long-lasting insulation. It maintains its integrity even under challenging circumstances.

Secure Adhesion: The tape features a strong adhesive backing that ensures secure attachment to various surfaces. It adheres firmly, providing reliable insulation and protection against moisture, dust, and other contaminants.