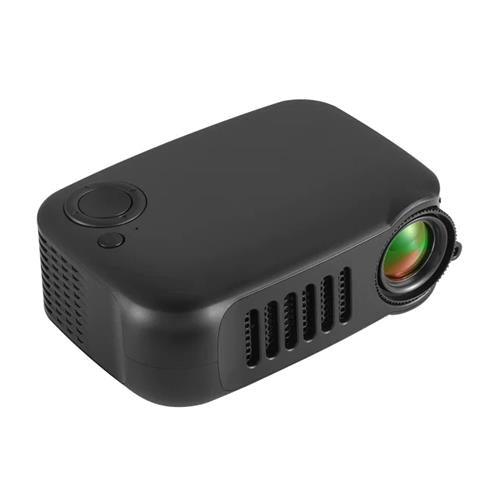 Mini HD Digital Projector Transjee A2000
Mini HD Projector Transjee A2000

The TRANSJEE A2000 Miini HD Digital Projector is a compact and portable projector designed to bring the home theater experience to your living room. With its small size and HD digital projection capabilities, it allows you to enjoy movies, videos, and other multimedia content on a bigger screen wihile still being compact.
Specifications:
Resolution: 320x240 pixels (native resolution)
Brightness: 1000 ANSI lumens
Contrast Ratio: 1000:1
Projection Size: 24-60 inches (diagonal)
Lamp Life: Approximately 20,000 hours
Aspect Ratio: 4:3 (native), 16:9 (compatible)
Connectivity: HDMI, USB, AV, VGA
Color: Black
Features:
Compact and Portable: The TRANSJEE A2000 is designed to be compact and lightweight, making it easy to transport and set up in different locations. Whether you want to enjoy movies indoors or have outdoor movie nights, this projector provides convenience and portability.

HD Digital Projection: Although the native resolution of the projector is 320x240 pixels, it supports high-definition content and can accept inputs up to 1080p resolution. This allows you to enjoy your favorite movies and videos with decent clarity and detail.

Brightness and Contrast: With a brightness rating of 1000 ANSI lumens, the projector offers adequate brightness for a clear and vibrant image. The contrast ratio of 1000:1 enhances the distinction between dark and light scenes, providing a more immersive viewing experience.

Projection Size and Aspect Ratio: The projector can project images with sizes ranging from 24 to 60 inches diagonally. It has a native aspect ratio of 4:3, which is ideal for traditional content, but it also supports the wider 16:9 aspect ratio for widescreen movies and videos.

Long Lamp Life: The TRANSJEE A2000 is equipped with an LED lamp that has an estimated lifespan of approximately 20,000 hours. This ensures years of usage without the need for frequent lamp replacements, making it a cost-effective option.

Versatile Connectivity: The projector offers various connectivity options, including HDMI, USB, AV, and VGA ports. These connections allow you to connect a wide range of devices such as laptops, gaming consoles, DVD players, USB drives, and more, enabling you to access and display your favorite multimedia content.