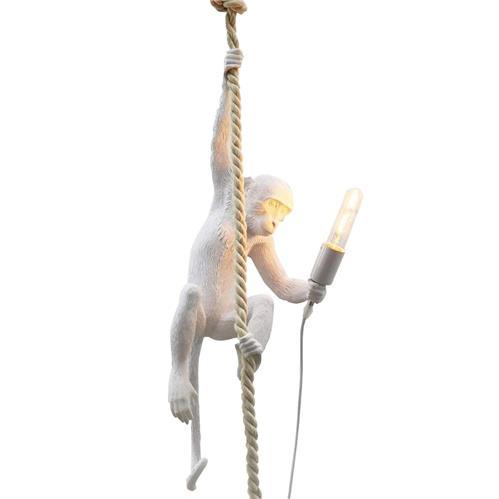 Monkey on Rope Pendant Light White DRSA6141
Looking for a statement lighting piece that is both stylish and playful? Look no further than the Monkey on a Rope Pendant Light!

This unique pendant light features a charming monkey hanging from a rope, adding a touch of whimsy to any space. Its vintage design is perfect for adding a touch of nostalgia to your home decor, while the durable construction ensures it will last for years to come. With its bright illumination and warm glow, this pendant light is perfect for illuminating any room in your home. And with an adjustable rope size of 2 meters, you can easily customize its height to suit your needs.

Whether you're looking to add a touch of bohemian charm or contemporary flair to your home, this pendant light is the perfect choice. So why wait? Bring home the Monkey on a Rope Pendant Light today and add a touch of playful style to your space!

Please note that the e14 globe is not included, and the monkey size is 70cm. The Monkey requires an E14 globe (Not Included)
Features:
Whimsical Design: The pendant light showcases a monkey figurine suspended from a white rope, creating a whimsical and imaginative design that brings a sense of joy and creativity to your space.

Artistic Craftsmanship: The monkey figurine is meticulously crafted, paying attention to detail to achieve a lifelike representation. The white finish enhances its charm and blends seamlessly with different interior styles.

Versatile Lighting: This pendant light provides a combination of ambient and task lighting, offering both an atmospheric glow and functional illumination for your space. It serves as an eye-catching decorative element as well as a practical lighting solution.

Adjustable Height: The pendant light allows for height adjustment, enabling you to customize the positioning to suit your space and lighting preferences.

Easy Installation: The pendant light comes with the necessary hardware and installation instructions for easy setup. It is designed to be wired directly into the ceiling electrical supply.
Specifications:
Model: DRSA6141
Material: Metal
Finish: White
Light Source: Compatible with standard E14 light bulbs (not included)
Voltage: Suitable for various voltage requirements
Height: Adjustable
Installation: Ceiling-mounted
Usage: Suitable for indoor use
Certification: CE and RoHS compliant (subject to manufacturer's certification)