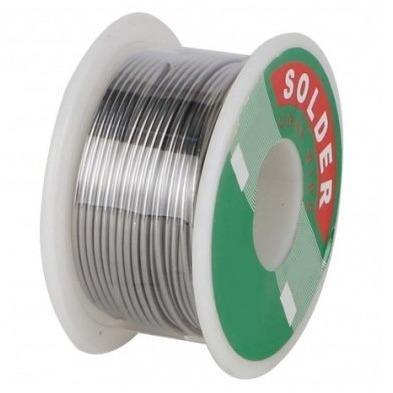 Soldering Wire 70g 525-Q1
Soldering Wire 70g 525-Q1

Our Soldering Wire 70g 525-Q1 is a versatile and reliable soldering solution suitable for both professional and DIY use. It is designed to create strong and durable solder joints, making it ideal for electrical, electronic, and other soldering applications.
Specifications:
Weight: 70g
Alloy: 525-Q1 
Features:
High-Quality Soldering Wire: Our soldering wire is manufactured using high-quality materials to ensure excellent conductivity and reliable solder joints. It is designed to melt quickly and flow smoothly, providing consistent and strong bonds.

Convenient Spool Size: With a 70g spool, our soldering wire offers an ample amount of soldering material for your projects. It provides a good balance between usability and value, allowing you to tackle various soldering tasks without running out of solder.

Versatile Application: The soldering wire is suitable for a wide range of applications, including electronics repair, circuit board soldering, electrical connections, hobby projects, and more. It can be used with various soldering irons and soldering stations.

Easy-to-Use: Our soldering wire is designed for easy handling and application. It melts at an appropriate temperature range, allowing for precise control during the soldering process. The wire's flexibility and manageable size contribute to comfortable and efficient soldering.

Reliable Solder Joints: The soldering wire is formulated to create reliable and strong solder joints. It promotes good wetting and ensures excellent adhesion between components, resulting in long-lasting connections.

Compatibility: Our soldering wire is compatible with a wide range of soldering fluxes, allowing for efficient and effective soldering. It can be used with both leaded and lead-free soldering processes, depending on your specific requirements.