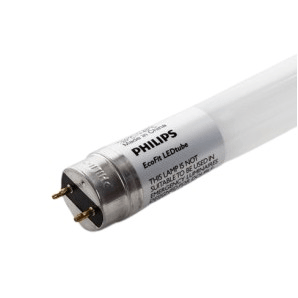 T8 4ft 16w EcoFit Led Tube 6500k 1 Side Phillips
T8 Ecofit Led tubes
Upgrade to efficient, long-lasting LED tubes with the Ecofit LED tubes. Ecofit LED tubes are a fast and easy way to replace your old fluorescent tubes with modern, efficient LED technology. Good quality of light with a natural lighting effect for use in general lighting applications with low initial investment – an environmentally friendly solution.
Benefits
Up to 50% energy saving compared with conventional fluorescent systems
• Easy installation: Simply replace the starter with the LED one provided and replace with the new Ecofit
Features
Retrofit solution with a long lifetime of 15,000 hrs • Up to 50% energy saving • Instant on, no flicker or buzz Application • Domestic applications • Small offices and retailers
Web orders for delivery will incur additional safety packaging costs should the quantity ordered be less than box quantity. This cost will be quoted separately to the delivery fee paid upon confirmation of the order.