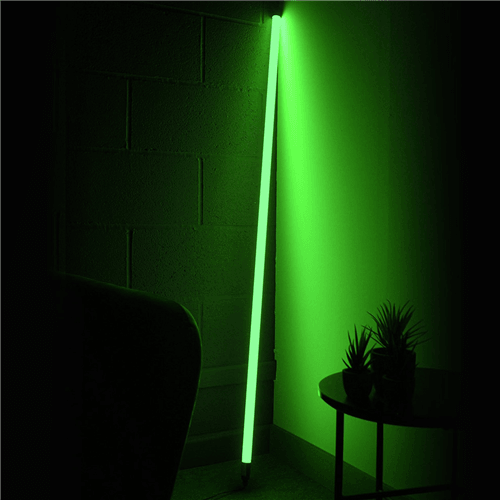 T8 4Ft 18w Green LED Glass Tube Single Sided
The Green T8 LED Tubing offers a vibrant and eye-catching lighting solution. Its green hue creates a unique and captivating atmosphere in various settings. It can be used for decorative purposes, themed events, or to add a pop of color to displays, stages, or entertainment venues. The green LED tubing is also popular for creating a nature-inspired or eco-friendly ambiance in spaces such as botanical gardens, eco-friendly stores, or environmental awareness events.
Specifications and benefits: 
 Length: 1.2M 
 Single sided tube 
 Power Consumption: 18 watts 
 Tube Type: Glass tube 
 Lighting Color: Green 
 Energy-efficient, providing cost savings and reducing electricity consumption
 Long lifespan, offering extended durability and reliability 
 Suitable for a wide range of applications, including decorative lighting, themed events, and eco-friendly establishments 
 Provides a vibrant and eye-catching green illumination 
 Instant start with no flickering or buzzing 
PLEASE NOTE:
*FITTING NOT INLCLUDED, LED TUBE ONLY
*NOT COMPATIBLE WITH FLUORESCENT FITTINGS
Web orders for delivery will incur additional safety packaging costs should the quantity ordered be less than box quantity. This cost will be quoted separately to the delivery fee paid upon confirmation of the order.