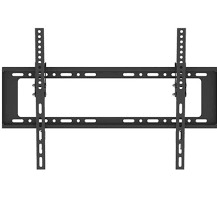 Tv Wall Mount 40 to 80 inch
TV Wall Mount Bracket 80 inch (G399)
One of the greatest advantages of mounting your TV is the space it saves. You will not need a table or any surface space to place the TV on, which can come in handy in a small room or house. 
This TV wall mount is sturdy and holds up to 80-inch TVs. The multiple punched holes give you more options to adjust the bracket depending on the TV size.
Application: Suitable for homes, offices, hotels, shops, restaurants, hospitals and many more.
Specifications:
Material: Iron

Colour: Black

Applicable size: 40 to 80 inch

Dimensions  (Width = 640mm Length = 525mm)

Load capacity = 75kg

Product Weight = 1.2kg
What's in the box
1 X TV wall mount